SIGAS worked with the Shanghai Research Institute of Chemical Technology to develop the patent in 2013 and jointly applied for a patent for the invention.
We recently obtained the Patent Certificate of the State Intellectual Property Office.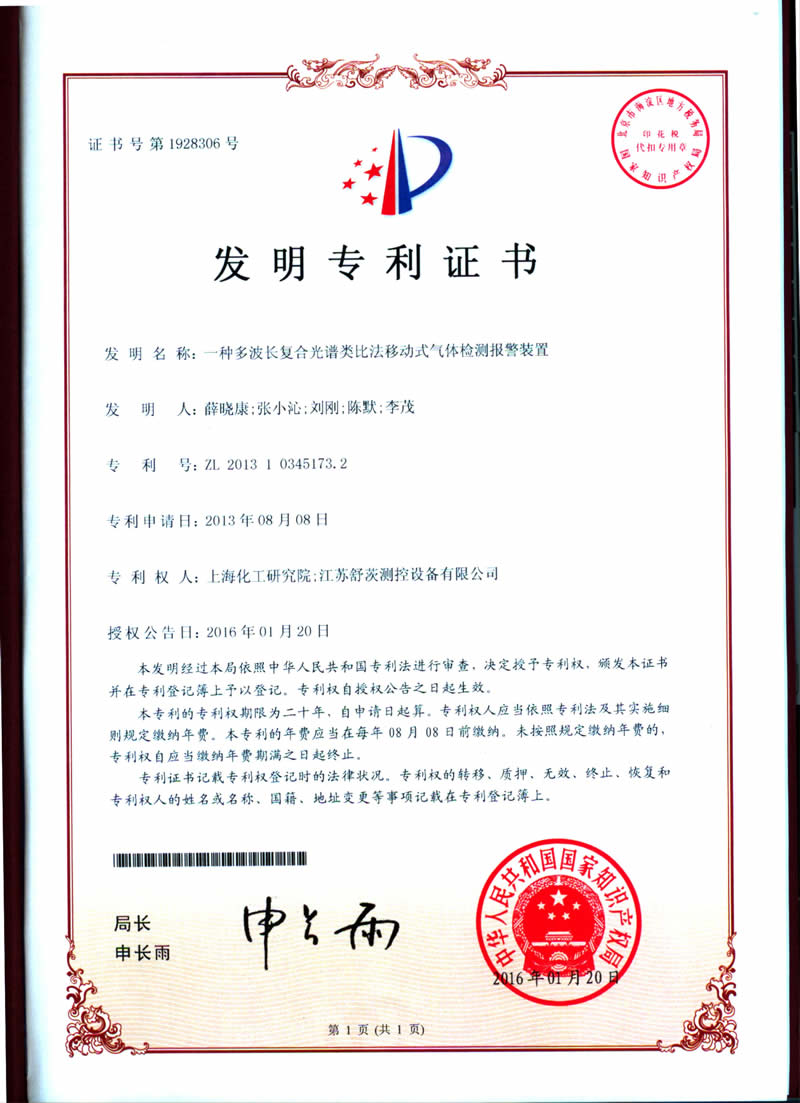 The utility model relates to a mobile gas detection and alarm device by multi-wavelength composite spectral analogy method, which comprises:
Filter, telescopic joint, magnetic adsorption base, pressure gauge, preheating coil, diaphragm pump, thermostat, power supply, control signal acquisition device, GPS antenna, and infrared gas detection components of different wavelengths, the pressure is regulating throttle valve and computer.

The device has the advantages of simple structure, lightweight, and fast response. And can realize the mobile vehicle can be harmful or abnormal gas detection and alarm.
Because poisonous and harmful gases cause serious harm to the human body and environment, it is crucial to detect and alarm these gases in real-time.
The invention uses the compound spectral analogy method to realize gas detection and alarm, and its key components are a non-dispersive infrared receiving and sensing unit, which is composed of an infrared light source, a gas chamber, a wavelength filter, and an infrared detector. A gas such as SO2, NO, CH4, SF6, and CO can be detected according to a different wavelength.
The invention advantages:
01. Quick response
Can achieve real-time data display and processing. A timely judgment can be made by comparing the absorption intensity of various specific wavelengths with the data stored under normal conditions.
02. Simple structure
No moving components except air pump, easy maintenance, low cost.
03. Light and strong
No need to modify the vehicle can be used, the intake and exhaust pipes by rolling down the window interface.
4. Using an LED infrared light source, low energy consumption, long life.
Use the DC 12V power supply in the car can meet the requirements.
05. Easy to operate
Comparison of data and information by computer.