On the afternoon of January 14, Himalayan co-founder and co-CEO Chen Xiaoyu, President of Oriental Ruiyu Fund Management Co., Ltd., Qiu Haibin, Changshu Municipal Committee Standing Committee, Minister of Publicity Wu Xiaohong, Changshu Municipal Committee Standing Committee, Deputy Secretary of the Party And Industry Committee, Deputy Director of the Management Committee Shi Hongliang and other relevant leaders came to SIGAS Measurement Engineering Corp. to gain an in-depth understanding of the development of SIGAS shares landing. Chen Mo, President of SIGAS Measurement Engineering Corp., briefed the visiting leaders on the company's development history, major products, market applications, and plans.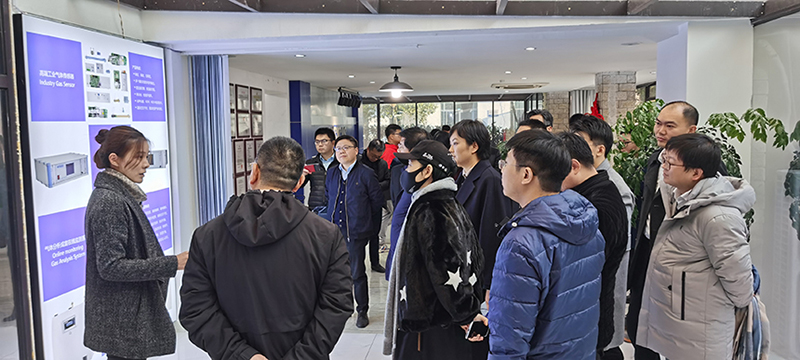 Himalaya is a country's leading unicorn enterprise in the new economy, with more than 600 million users, more than 10 million anchors, and more than 170 minutes of active listening time.

As the largest enterprise featuring Internet audio in China, Himalaya takes "sharing human wisdom with sound" as its mission. Aiming at the goal of popularization and globalization, Himalaya tries its best to create the layout of new education, new media, new publishing, and new consumption industries, linking upstream and downstream to form the cumulative effect of the industrial ecological chain.
SIGAS, relying on photo-acoustic spectroscopic trace gas detection technology, has developed and generated various gas analysis instruments, gas analysis sensors, environmental monitoring systems, and industrial process analysis systems. The company has cutting-edge patent technology from sensor design, research, and development to production and testing.
SIGAS gas analysis instruments are widely used in environmental protection flue gas detection, inspection, and quarantine of toxic and harmful gas detection, for all kinds of cement, metallurgy, chemical, petroleum, semiconductor processing, and other industrial enterprises to provide a complete set of gas detection technology solutions.